Hosiery/​Seamless
Santoni opens new Materials Experience Center in Shanghai
Santoni, in collaboration with the designers Eva x Carola, has officially opened its new Materials Experience Centre (MEC) in Shanghai...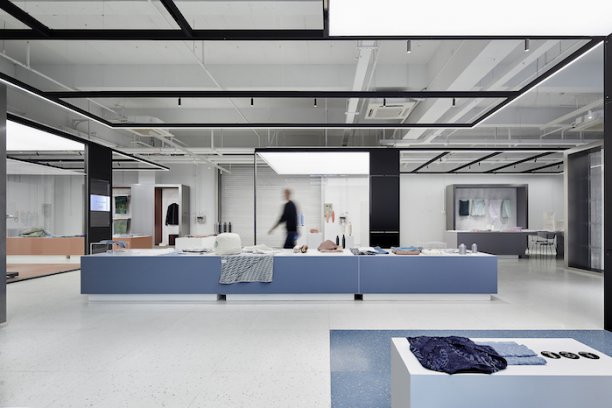 30th June 2020
Knitting Industry
| Shanghai
© Santoni.
Circular knitting machinery leader Santoni, in collaboration with the designers Eva x Carola, has officially opened its new Materials Experience Centre (MEC) at Santoni's facility in Shanghai. The new space is a contemporary research and inspiration centre for leading professionals in the textiles industry to meet clients, research ideas and work on bespoke projects. It will be a pivotal space for inspiration, ideation, implementation and knowledge sharing.
Designing the future
The MEC is designed to meet the needs of a modern textile producer that consistently champions sustainability and futuristic design thinking when it comes to garments, the company said in a statement today.
Santoni's CEO, Gianpietro Belotti, said: "Establishing this new network has allowed us to think differently and to be ready to penetrate new frontiers. This will enable us to achieve our mission of inspiring world knitters with cutting edge solutions."
© Santoni.
An adaptable, modular space
The Material Experience Center was developed to adapt to different uses and projects and simplicity and adaptability were central to the finished design. The idea is that people can effortlessly slot in different products, samples and demonstrations within the space, using the areas provided. With this in mind, the space also includes:
• A place that's suitable for workshops and seminars
• A break area for coffee and snacks
• A relaxed environment for more informal meetings
• A space for brainstorming, developing and initiating innovative partnerships
• An open creative setup for analysing test results and deciding on next steps
• A place where projects are securely logged, stored and made easily accessible
"The key goals of the MEC are therefore: Inspiration, ideation, implementation and knowledge sharing with the paramount objective of helping to create a better networked and smarter textile industry. The centre will encourage the importance of collaboration, providing a dedicated space to meet key industry players and work on developing tomorrow's performance knits," the company said.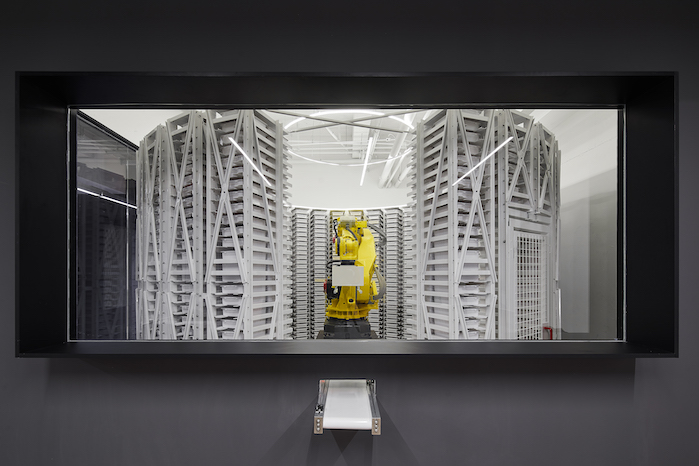 © Santoni.
"It will be a focal point around which industry stakeholders in the supply chain can gather including brands, manufacturing companies, and yarn suppliers. Crucially, there is also the opportunity to work next to Santoni's machines. The applications of different machines are promoted and explained, and there's also an opportunity to work next to the machine itself, where outcomes can be analysed and updated on the spot. This means ideas can be realised in the shortest possible time."
Open and luminous space
The finished environment is open, luminous and has a high-tech feel. Elements like metal mesh, stainless steel, LED walls and touchscreens have been incorporated. It's a clean, sophisticated and airy space where one feels in harmony with all that is technological and futuristic.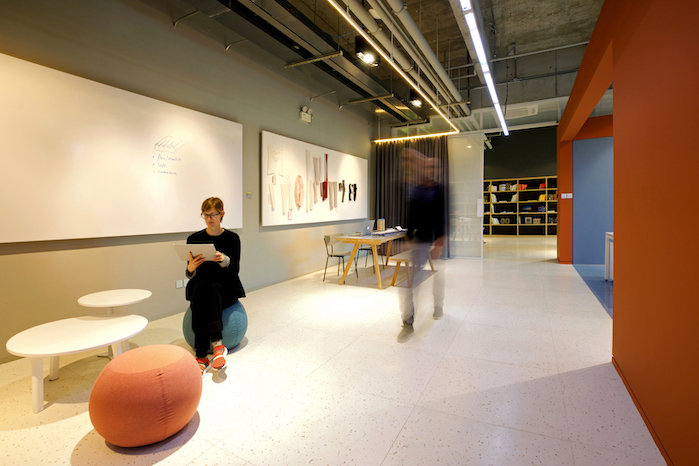 © Santoni.
The space itself is a key attraction to visitors who are meeting with Santoni Shanghai, and is comprised of an entrance, concept, exhibition area, feature room and lounge area. The first area that visitors encounter is the entrance, an area that connects the reception area of the Santoni factory with the Materials Experience Center. This welcome area can be closed off from the makerspace to ensure privacy and confidentiality. Elsewhere in the MEC, research and concepts are displayed and supported by tech sheets, yarn reelings and concept explanations.
Over 2000 samples
The finishing touch to the MEC is Santonis' sample archive, an automated storage room with over 2000 samples that serve as examples for almost any application. This can be accessed online or in person. A mechanical arm in the centre of the library delivers any requested sample to the lounge area, which is a nod to the ingenuity and technological innovation that we envision the MEC and its users to be synonymous with. For those who prefer testing in their own company, samples can also be borrowed. An additional yarn and material database is currently set up for external and internal use, along with an in-house yarn store with a large number of different yarns.
© Santoni.
For more information about the Materials Experience Center, Santoni Shanghai or Eva x Carola, contact [email protected] or [email protected].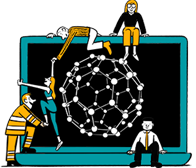 Business intelligence for the fibre, textiles and apparel industries: technologies, innovations, markets, investments, trade policy, sourcing, strategy...
Find out more