6th June 2013, Reutlingen
Stoll Compact Class & Multi-Gauge Class
Gauges in every variation
CMS 502 HP / CMS 520 HP / CMS 530 HP / CMS 520 C / CMS 530 T / CMS 822 HP
CMS 502 HP multi gauge / CMS 520 HP multi gauge / CMS 530 HP multi gauge
CMS 822 HP multi gauge / CMS 933 HP multi gauge
If everything must be possible, then there's only one option: Our STOLL COMPACT CLASS.
A CMS of the compact class is above all one thing: typically STOLL! It is extremely efficient for Fully Fashion, as you can select two, three or four systems as required.
With a working width of 45" or 50", it's a real credit to its class name. For unusual sizes there's a tandem machine with 84" that you can also use to knit Fully Fashion pieces in 2 x 42" tandem mode. Coarse stitches for a high-quality hand-knit look?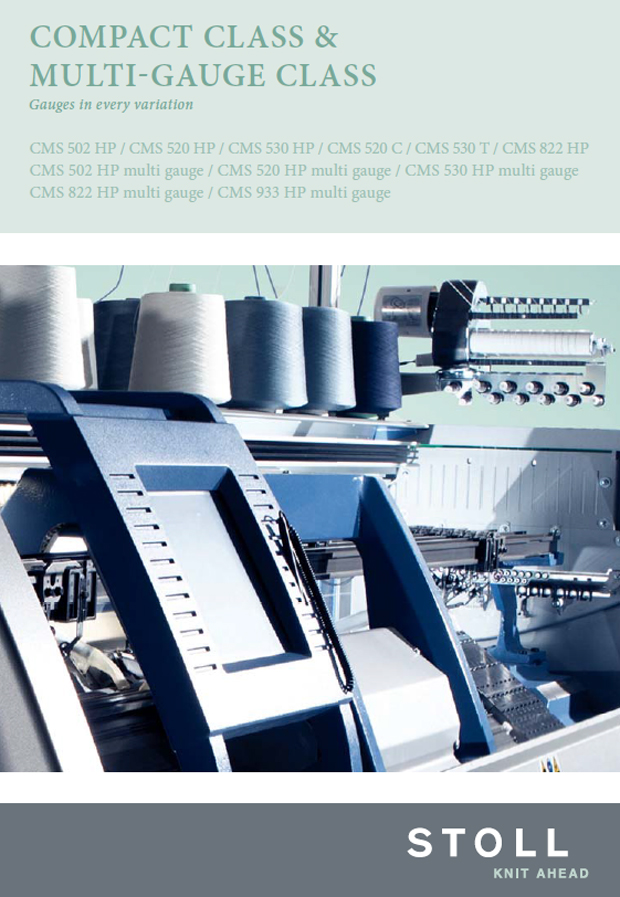 There's also a suitable CMS to meet this need. One model of the compact class is even equipped with split additional beds with transfer elements – for extremely productive narrowing cycles with fabrics knitted with all needles. Of course, all machines are equipped with the Fully Fashion features of yarn clamping and cutting device and take-down comb. All this makes the models of the compact class the "bestsellers" for Fully Fashion.
Like every CMS, the models of the compact class are also characterized by their versatility. Where you would otherwise require expensive special machines, every CMS provides absolutely comparable results in no time.
Except for the entry model of our compact class, the CMS 502 HP, simple needle exchange, extremely fast gauge conversion, or (and we're particularly proud of this) our intarsia yarn feeders enable you to further increase the utilization of your STOLL-machine pool. Intarsia knitting is especially simple with our machines, as every CMS* is prepared for it as standard. In practice this means: simply slide on our optionally available intarsia yarn feeders and you can immediately knit even the most complicated patterns with precision. From classic argyle styles to avant-garde fantasy patterns – you can easily knit any pattern you desire.
* Excluding CMS 502 HP.
Product Brochure
Download Stoll's COMPACT CLASS & MULTI-GAUGE CLASS brochure
Product Video
Watch the Stoll CMS 502 HP & CMS 502 MULTI-GAUGE video