15th November 2013, Obertshausen
Taiwanese shoe manufacturer invests in Karl Mayer TM 4-EL
Long John Tsung Right Industrial, an integrated manufacturer of a wide range of shoes, has produced shoes made from the fabric developed by Karl Mayer and produced on its new TM 4-EL warp knit tricot machine.
The Taiwanese shoe manufacturer's part in the cooperative venture was to use the double-layered fabric supplied by Karl Mayer to produce a continuous upper with a clean profile, without using any reinforcing elements.
Different patterns
According to Karl Mayer, its TM 4-EL has a variety of features that enable it to produce different patterns. One of the patterns developed has an attractive, continuous filet construction featuring segments having different pore sizes. The differently sized holes were produced by the interaction of two ground guide bars with a filet drawing-in arrangement and EL control.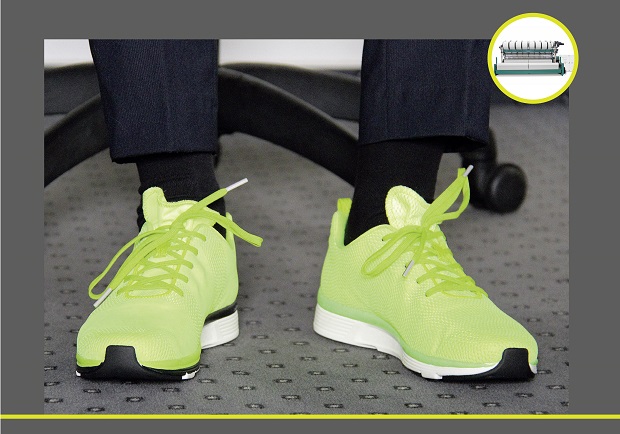 The two ground guide bars were partly combined to produce an almost full drawing-in arrangement to work another design having smooth areas. The EL facility on the TM 4 can also be used to alter the length of the segments having the dense surfaces, the company reports.
Whereas two of the four ground guide bars worked the filet pattern, the other two ground guide bars worked a pillar stitch and weft lapping to provide stability – and this applies to both of the designs.
Fast and multifunctional
As well as producing a wide variety of different patterns, this new machine in the TM series is said to be fast and user-friendly, and produce a high-quality product.
At a working width of 180", the TM 4-EL can operate at speeds of up to 1,400 rpm, a performance which, together with its attractive price, makes this new four-bar machine an interesting proposition for the mid-range sector, Karl Mayer believes.
In addition to producing shoe fabrics, this tricot machine can be used to produce semi-technical textiles, such as automotive fabrics, as well as plain fabrics for outerwear and sportswear.
This article is also appears in...