6th June 2018, Reutlingen
Stoll develops new machine for extra wide knitting
Stoll, a leading flat knitting machine manufacturer, will present its new ADF 830-24 W for extra wide knitting this July. For the first time, the new ADF model will be presented at ITMA Asia + CITME 2018 in Shanghai in October.
"Whether large textiles, oversizes, unusual cuts or long patterns – with the ADF 830-24 W and a working width of 84 inches various textiles for fashion or technical textiles can be realised," the company says.
The ADF 830-24 W is equipped with the innovative Stoll-weave-in technology, which allows knitting of textiles with weave-like optics and properties. "A product advantage that directly affects form, comfort and flexibility: unlike traditional knitwear, weave-like textiles are more stretchable and more comfortable depending on the type of knit. In addition, they can already be preformed in the machine and provided with 3D elements," the manufacturer explains.
Based on the successful ADF technology, the ADF 830-24 W also scores with the yarn carriers, which are independent of the carriage and allow a particularly high degree of flexibility. Each pair is mounted on a total of 12 tracks on the ADF 830-24 W, can be moved both horizontally and vertically, and can be easily programmed and quickly equipped with yarn.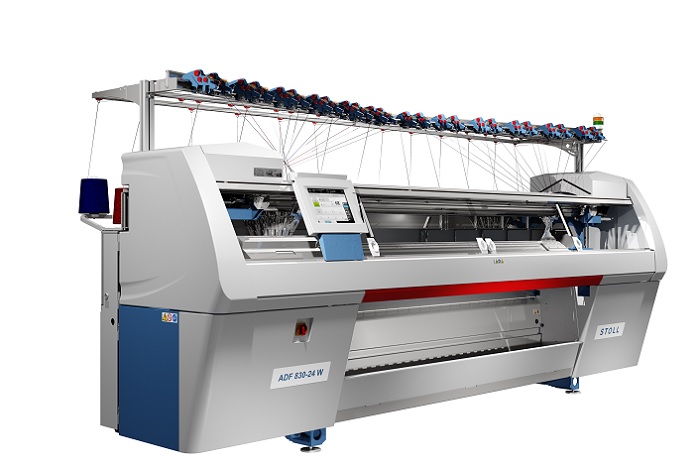 "The EKC operating system completes the modern equipment: It facilitates the operation, since it is intuitive and can be learned without much training effort. The ADF 830-24 W represents a user-friendly gain for textile production – from day one," Stoll says.
H. Stoll AG & Co. KG, with headquarters in Reutlingen, Germany, is a leading manufacturer of flat knitting machines. The long‐established company was founded in 1873 and has 1,000 employees around the world. Its brand portfolio includes flat knitting machines and pattern software that are used to produce fashion and technical textiles. Stoll exports its products to more than 50 countries worldwide.
Further reading
This article is also appears in...