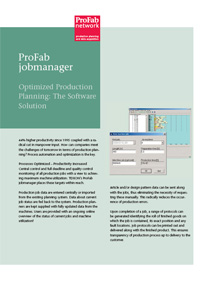 The software solution for optimal results in advanced planning and scheduling
Productivity increase of 44% achieved from 1995 to date with significant coincident reduction of staff. How should a company handle such requirements and prepare its production planning systems suitably for the future? The magic word is process automation and optimization.
With the TEXION's software module ProFab jobmanager, production jobs can be conveniently controlled from one central location and machine loads can be maximized via supervision of jobs and deadlines on the general overview generated by this program. All job-related data are entered from a central terminal, and the data being returned from the machine are continuously transferred and confirmed to the job-planning program for immediate update. Article and pattern details of the respective job are automatically transferred to the control system of the production machine and finally, job and quality protocols are generated for each job.
Click on image for further details and full technical specification
[30.6.09]