4th February 2013, Wakayama
VIDEO: Shima Seiki 50th Anniversary Celebration Fashion Show
Leading Japanese computerized flat knitting machine manufacturer Shima Seiki has released a fantastic new video of a fashion show, which the company put on for customers during its three day 50th Anniversary Celebration event held at its hometown in November 2012 in Japan - and it really is worth watching, both for the content and for the camera work.
Knitting Industry readers can watch the video of the complete fashion show below, which was held when almost 1500 guests assembled in Wakayama, the capital city of Wakayama Prefecture in the Kansai region of Japan, for the Shima event.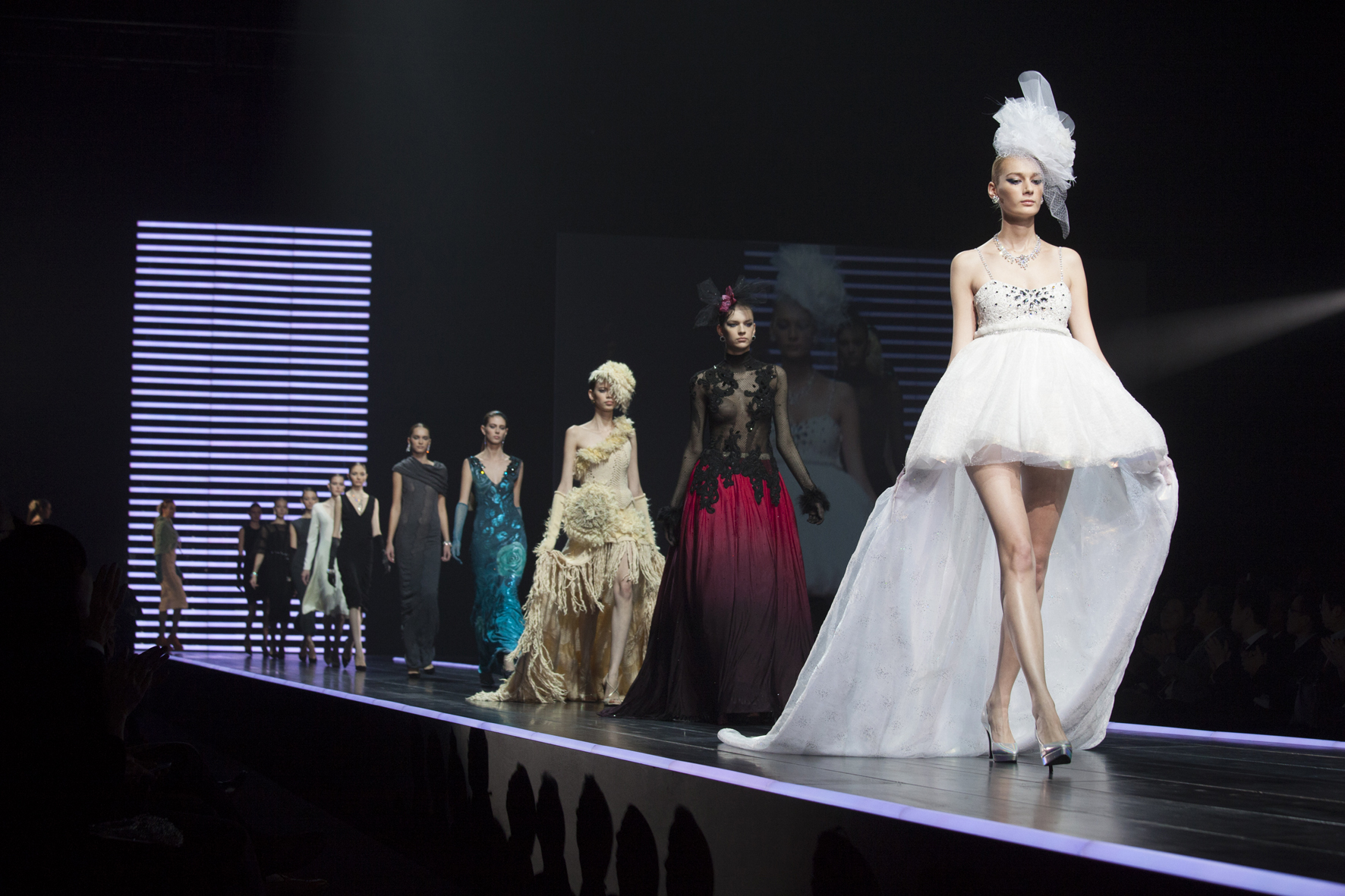 The brilliantly shot fashion show features some amazing examples of Shima Seiki Wholegarments and new integral knitwear. Sixty one different 'looks' were showcased by a group of twenty top models at the afternoon themed fashion show which was held in Wakayama's Big Whale main arena, amidst a fully charged atmosphere created by the combination of the excitement of Shima's guests, stunning lighting and pulsating music.
One of the most memorable moments of the whole 50th Anniversary event, which is shown at the end of the video, was watching the great man himself, Dr Masahiro Shima, taking his bow under the lights at the end of the fashion show to a rapturous standing ovation. It's worth watching the video just for that moment.
Watch the Shima Seiki 50th Anniversary Celebration Fashion Show video . . .
Other event highlights
After early morning guided tours of Shima's very impressive factory, guests from all over the world arrived by coach at the Big Whale for a full day of events and celebrations including knit sample and machine displays, CAD demonstrations, the afternoon fashion show, and an early evening dinning extravaganza with absolutely unique entertainment.
At its headquarters and to mark the occasion, the high technology flat knitting machine builder launched two new machines one of which provides an innovative solution for improving dimensional stability and strength in technical flat knitted fabrics. Shima unveiled an interesting 5 gauge version of its high speed four needlebed MACH 2X, which is a new coarse gauge option for X technology, and an all new and even more interesting SRY123LP flat knitting machine for 'inlay' fabrics using the company's loop presser technology. Read the full article here.
Knitwear showcase
In the early part of the day, visitors walked around the perimeter of the upper floor glass fronted gallery of Wakayama's Big Whale to view a fantastic range of 660 knitted samples from around the world.
The display included a huge range of Shima's own Wholegarment creations, collections from its own Japanese and US brands, some fabulous knitwear from the world's leading brands, knit collections from prestige Japanese brands and department stores and some weird and wonderful spirited collections from knitwear design students at the world's leading Universities.
The Knit Sample Display also included Shima SIP print samples, virtual samples, samples by category, samples from the fashion show, high efficiency programming samples and a range of samples from last year's ITMA ASIA + CITME 2012 exhibition.
Further reading
Shima Seiki 50th Anniversary Celebration - Billy Hunter reports from Wakayama
This article is also appears in...

Shima always puts on a good show for its guests, no matter the occasion. If you were one of the lucky ones who attended the actual event you will know what I mean. The people at Shima have done a great job in creating this excellent video which brings back memories of a couple of memorable days in Wakayama.