17th September 2019, Cannes
New approach to sustainability at MarediModa 2019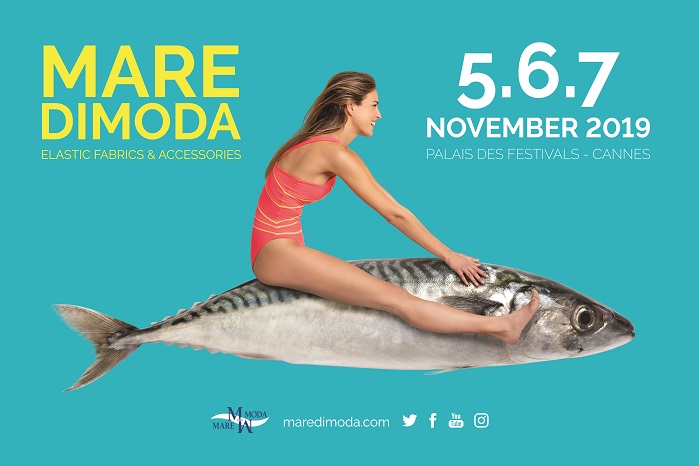 More than 100 European companies will showcase their collections for summer 2021. © MarediModa
The 18th edition of MarediModa, a leading international trade fair dedicated to underwear and beachwear textiles, will take place from 5-7 November at the Palais Des Festivals, Cannes.
More than 100 European companies will showcase their collections for summer 2021. There will be a selection of private label manufacturers from Italy, Spain, Portugal, Morocco and Tunisia: a qualified alternative to Far East producers, organisers report.
"MarediModa is an unmissable event. At the moment we are working on great news. First of all, I would like to remind that MarediModa Cannes is a great opportunity for all visitors; they can enjoy the widest and most qualified textiles for beachwear, underwear and athleisure universes of controlled origin," said Claudio Taiana, President of MarediModa.
"In addition to being a unique trade show, there are many other factors that make it a must-see. A unique trend forecasting led by David Shah, a selection of leading private label companies, a programme of unmissable in-depth events, a relaxing evening, exhibitions and special initiatives and, above all, a wide emphasis on the young talents of The Link fashion contest: success is guaranteed."
"Last but not least, a new approach to sustainability and greater attention to the environment. Among the news of this edition, I would like to highlight the MarediModa Talking Fabrics, a project created for our visitors. It is a journey through the trend forum together with our favourite histrionic and irreverent ironic driver David Shah, creator author and curator editor of our trends."
Last year, the event hosted over 100 exhibitors, highlighting the need for 'multi-tasking garments' fulfilling multiple purposes, delivering comfort, performance and simple yet unique design. Over 40 exhibitors presented fabrics and accessories highlighting the world of athleisure.
Further reading
This article is also appears in...