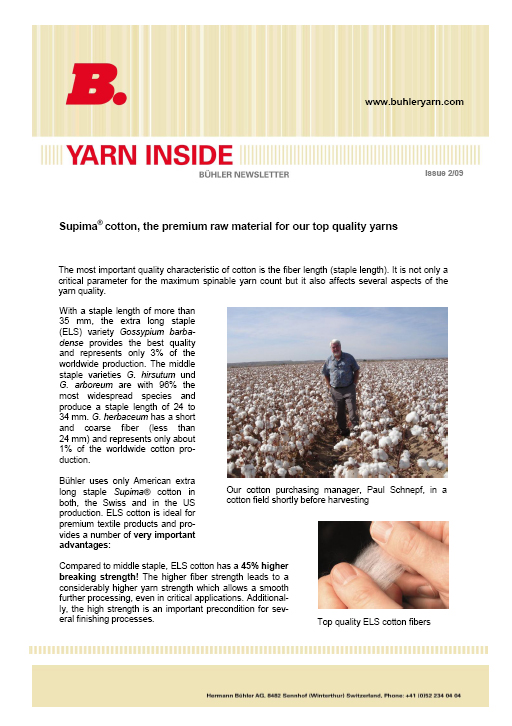 ADVERTISEMENT FEATURE

Supima® cotton, the premium raw material for our top quality yarns
The most important quality characteristic of cotton is the fibre length (staple length). It is not only a critical parameter for the maximum spinable yarn count but it also affects several aspects of the yarn quality.
With a staple length of more than 35 mm, the extra long staple (ELS) variety Gossypium barbadense provides the best quality and represents only 3% of the worldwide production. The middle staple varieties G. hirsutum und G. arboreum are with 96% the most widespread species and produce a staple length of 24 to 34 mm. G. herbaceum has a short and coarse fibre (less than 24 mm) and represents only about 1% of the worldwide cotton production.
Bühler uses only American extra long staple Supima® cotton in both, the Swiss and in the US production. ELS cotton is ideal for premium textile products and provides a number of very important advantages:
Compared to middle staple, ELS cotton has a 45% higher breaking strength! The higher fibre strength leads to a considerably higher yarn strength which allows a smooth further processing, even in critical applications. Additionally, the high strength is an important precondition for several finishing processes.
Hermann B├╝hler AG, Buhler Quality Yarns Corp.
General product information
Hermann B├╝hler (Schweiz) and Buhler Quality Yarns (USA) are specialized in the┬á production of high quality yarns manufactured from extra long staple cotton and Micro Modal. Besides exclusive Supima-Cotton, we spin high grade Organic-Cotton to the finest yarns. An innovative world novelty is the Rainbow-technology, an extremely flexible alternative to conventional dyed and m├ęlange yarns. Thanks to the latest yarn-innovation, best moisture transport can be achieved also with pure cotton. The cotton blend with┬áX-Static silver fibers offers a cotton yarn with excellent antibacterial and anti-odor properties. We spin Micro Modal from Lenzing in 100 % or blended with extra long staple Supima cotton to create an exclusive blend.┬á In addition to ring- and Compact-spun yarns, we offer our Royal-Yarns, which perfectly combine the advantages of single and plied yarns.
Locations
Our company operates from two locations. Hermann Bühler AG is located in Winterhthur- Sennhof (Switzerland). To find us, please click here. Buhler Quality Yarns Corp. has its domicile in Jefferson, Georgia, USA.  To find out how to get there, please click here.
Hermann B├╝hler AG, Switzerland
M├╝lau 128482 Sennhof (Winterthur)SwitzerlandPhone: +41 (0)52 234 04 04Fax: +41 (0)52 234 04 94info(at)buhleryarn.com
Buhler Quality Yarns Corp., USA
1881 Athens Hwy / PO Box 506 Jefferson, GA 30549 USA Phone: +1 (706) 367 9834 Fax: +1 (706) 367 9837sales(at)buhleryarns.com

www.buhleryarn.com
This article is also appears in...