29th January 2013, Portland, OR
NIKE: 80% less waste for new Flyknit Lunar1+
Nike has launched its latest running shoe incorporating its Flyknit seamlessly knitted uppers technology and it looks like being a real winner on all fronts.
Nike Flyknit Lunar1+, which is available from the beginning of February, is said to employ construction methods which reduce waste by an average of 80% when compared to typical Nike running footwear and offer significant benefits to everyday runners.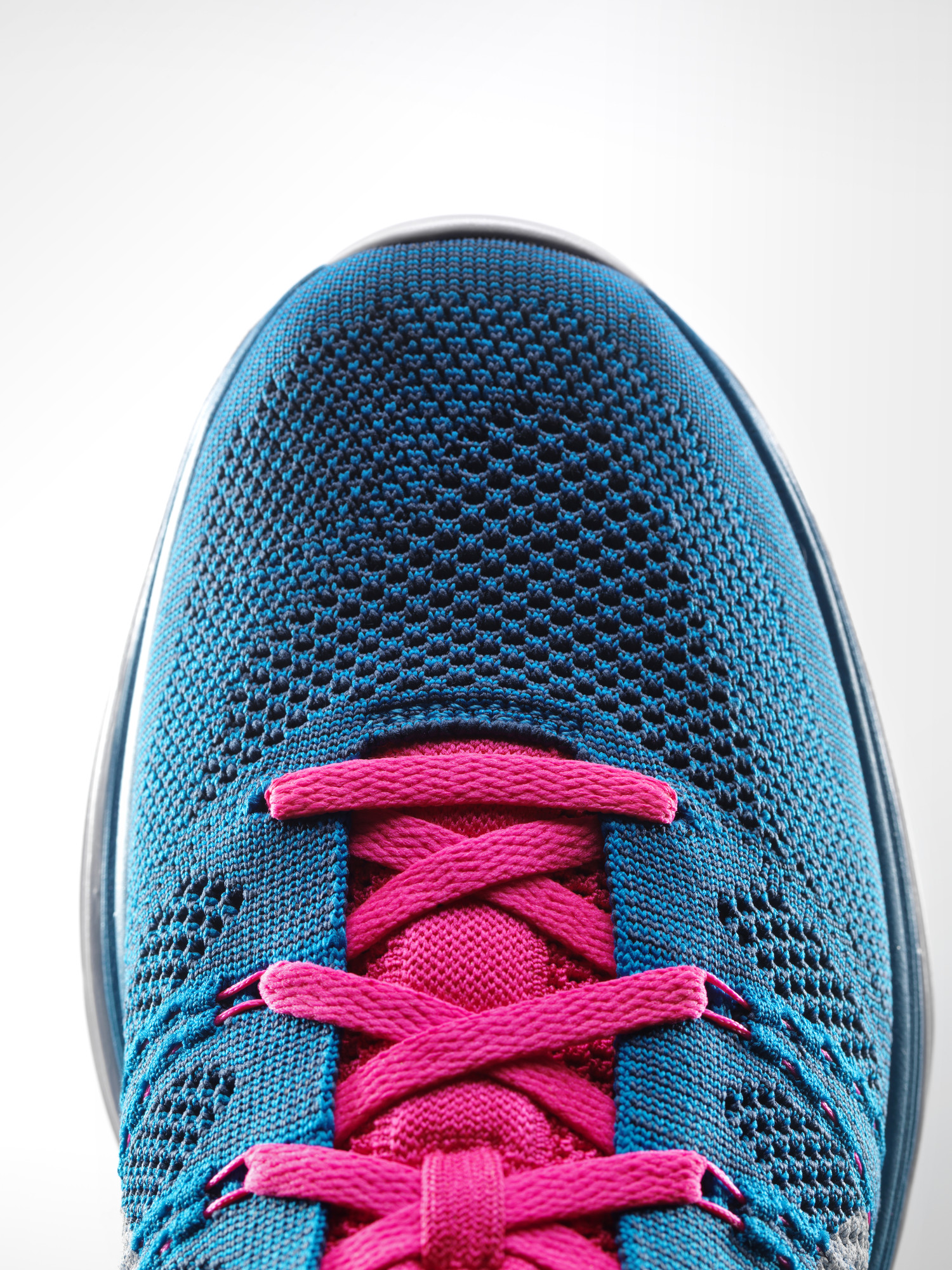 Because the Flyknit uppers are knitted in one piece on flat knitting machines, the construction eliminates the need for the manufacture of multiple fabrics and material cutting employed in manufacturing the uppers of traditional sports footwear. This greatly eliminates cutting waste and allows the knitted shoe upper to drop from the knitting machine in one piece, ready for integration with the sole and other shoe components.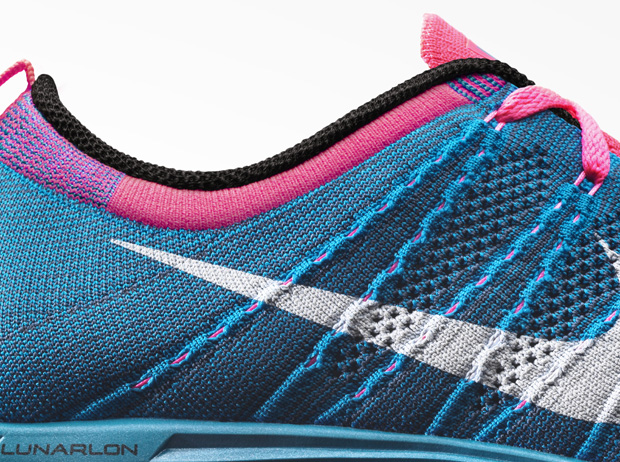 Striving for better performance
Until the launch of Flyknit and similar products, Nike and other sports shoe manufacturers have depended on the cutting and sewing of multiple fabric types, sometimes from multiple global locations, in shoe assembly.
Flyknit not only eliminates cutting waste but also greatly streamlines the overall manufacturing supply chain. Yarns can be now delivered to factories where shoe uppers are knitted and attached to soles and other components to make the complete shoe under one roof. Better still - shoes could be knitted and assembled at the same location where fibres and yarns are actually manufactured.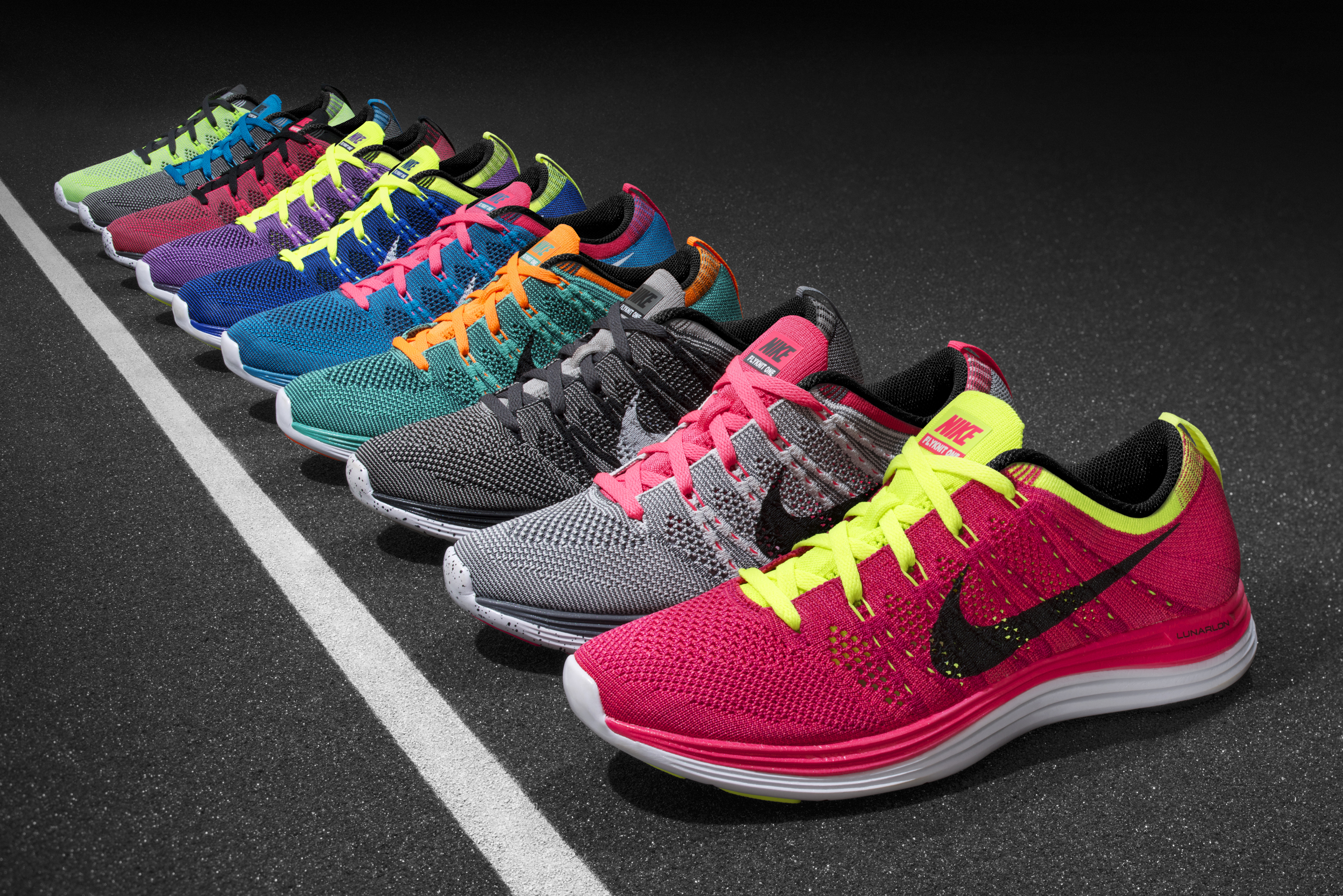 The average 80% waste reduction claimed by Nike is a huge achievement and comes at a time when the company, like most major clothing and footwear brands, is striving for better performance in its corporate responsibility through the adoption of new greener technologies.
"Athletes push themselves toward higher and higher levels of performance. They want to achieve that breakthrough moment, their personal best. That's how Nike approaches corporate responsibility. It's not just about getting better at what we do – addressing impacts throughout our supply chain – it's about striving for the best, creating value for the business and innovating for a better world," Nike explains in an article entitled 'Sustainable Business At Nike, Inc.' on the company's corporate website.
Nike has recently made the news with the launch of a number of sustainable textiles initiatives. Last year the company announced that it had entered into a strategic partnership with DyeCoo Textile Systems B.V., a Netherlands-based company that has developed and built the first commercially available waterless textile dyeing machines.
By using recycled carbon dioxide, DyeCoo's technology eliminates the use of water in the textile dyeing process. However, the new technology requires innovation in dye and chemical products as the applications expand in order to obtain the high level of colour fastness and performance that consumers demand. In this respect DyeCoo has since announced a partnership with major dyestuffs developer Huntsman Textile effects.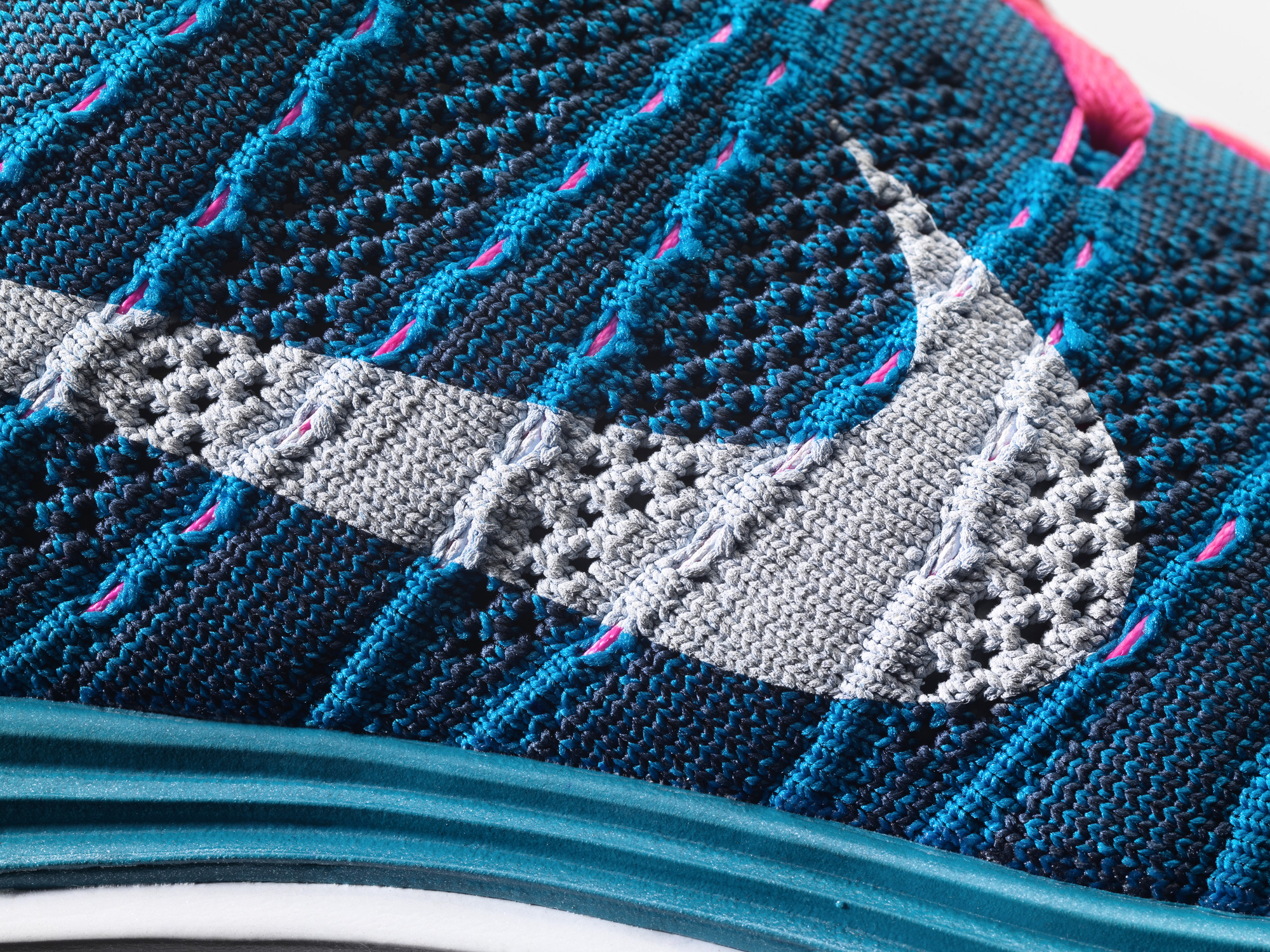 Just less than a year ago Nike announced the launch of the Flyknit revolutionary new running shoe technology which uses state-of-the-art integral knitting techniques to create a one piece upper engineered for precision fit and with the aim of creating the feeling of a second skin for runners.
In what is an absolutely ingenious piece of knitting, the Nike Flyknit upper uses a complex combination of modern flat knitting techniques to create a two dimensional component with built in support which can easily be manipulated into a three dimensional upper for attachment to a sole unit.
Watch the Nike Flyknit Lunar1+ movie . . .
At the launch the company said that Flyknit revolutionizes running by rethinking shoe construction from the ground up, informed by athlete insights and employing a new proprietary technology.
Expanding the franchise to the every day runner
Nike Flyknit was created for performance in world-class marathon events, and many elite runners have crossed the finish line in the Nike Flyknit Racer, part of the first Nike Flyknit collection. Nike says the Nike Flyknit Lunar1+ expands the franchise to the everyday runner, offering a bright colour palette to make sure runners look as great as they feel on the road.
In a statement yesterday, the Oregon headquartered company said: "Runners lacing up in preparation for the spring race season won't make sacrifices. They need a shoe that fits perfectly to take on the miles, has enough structure to feel supportive, offers cushioning for amazing comfort – and sports some style on top of it all. With this inspiration, the lightweight Nike Flyknit Lunar1+ brings the virtually seamless upper using Nike Flyknit technology together with the plush, responsive cushioning of Lunarlon."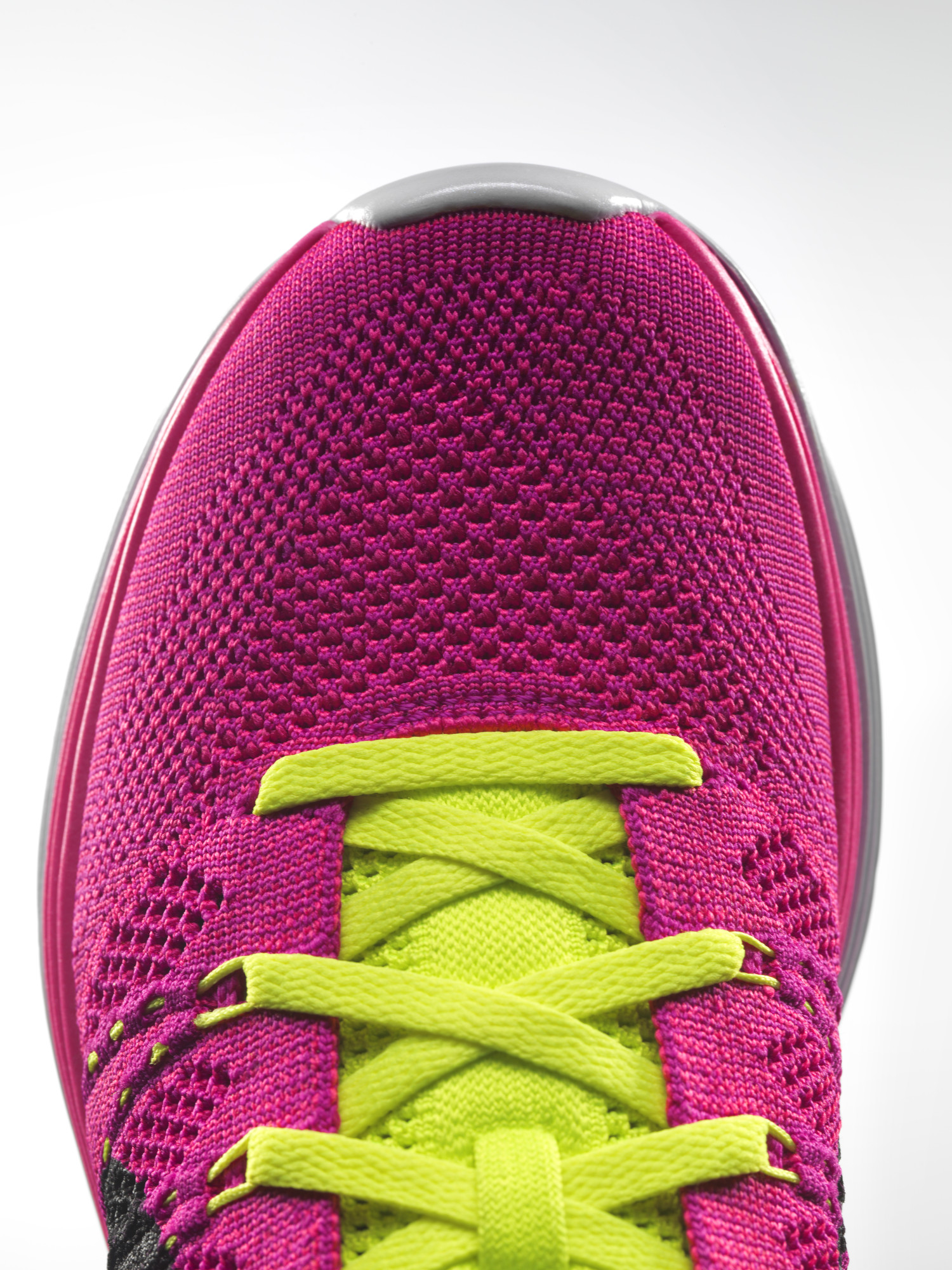 Since its launch in February 2012, Nike Flyknit technology has redefined the development and creation of footwear for running with its ability to be engineered to provide a more precise fit for the specific needs of the foot.
Support and structure are knitted into the Nike Flyknit upper, which helps reduce seams, weight and areas of friction and keeps the shoe lightweight. "This spring the Nike Flyknit Lunar1+ provides support, flexibility and breathability with a more cushioned midsole – a great solution for everyday runners," Nike said.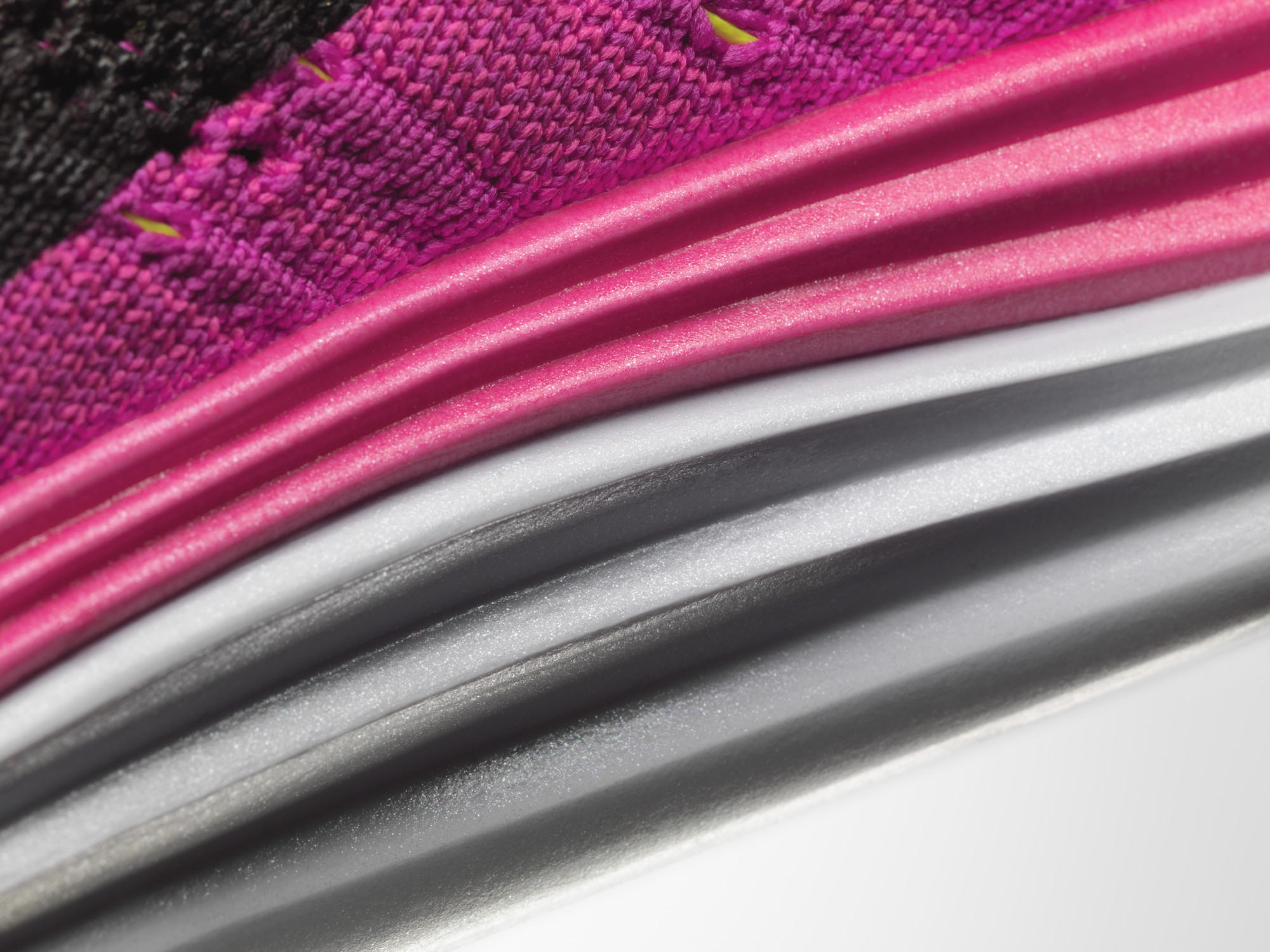 Nike Flyknit Lunar1+ combines Nike Flyknit with plush, responsive Lunarlon, a resilient foam which aims to provide ultra-soft cushioning, and springy response and support. The Nike Flyknit Lunar1+ also has a 'neutral platform' that is said to benefit a wide array of runners looking for a responsive and well-cushioned shoe.
Strategically placed durable rubber inserts in the outsole are said to deliver maximum impact protection in key areas on the heel and forefoot and the upper incorporates dynamic Nike Flywire, adaptive support that Nike says tightens and relaxes to accommodate the natural motion of the foot.
Further reading
Nike Flyknit a seamlessly knitted running shoe!
Nike Flyknit: Ready, Steady, Go!
This article is also appears in...

Another great flat knitted product design. Keep up the good work guys!!!