29th June 2016, Manchester
It's all happening in Italy
Last week, Italian company Lonati announced signing a EUR 40 million contract with Uztex, a leader in the production of socks - one of the largest orders in the history of the Brescia based textile machinery manufacturer.
The contract, signed in Zurich last month, is for the supply of 1,024 machines to a company that claims to output 30% of Uzbekistan's textile production. This order is the latest in a series of large orders received by the Italian company from Uzbek, which since 2015 has entered into a number of agreements for the supply of more than 1,000 of the latest generation automatic closed toe socks knitting machines, bringing to 2,064 the overall share of total equipment purchased.
The delivery of the equipment is scheduled to take place at the end of 2016 and in the beginning of 2017. Find out more here – Lonati receives EUR 40 million order from Uzbekistan based socks company.
Knitwear at Pitti Uomo 90
Staying in Italy – Pitti Uomo, a leading platform for men's clothing and accessory collections, concluded in Florence this month, celebrating another record-breaking edition that attracted 20,500 buyers and over 30,000 visitors.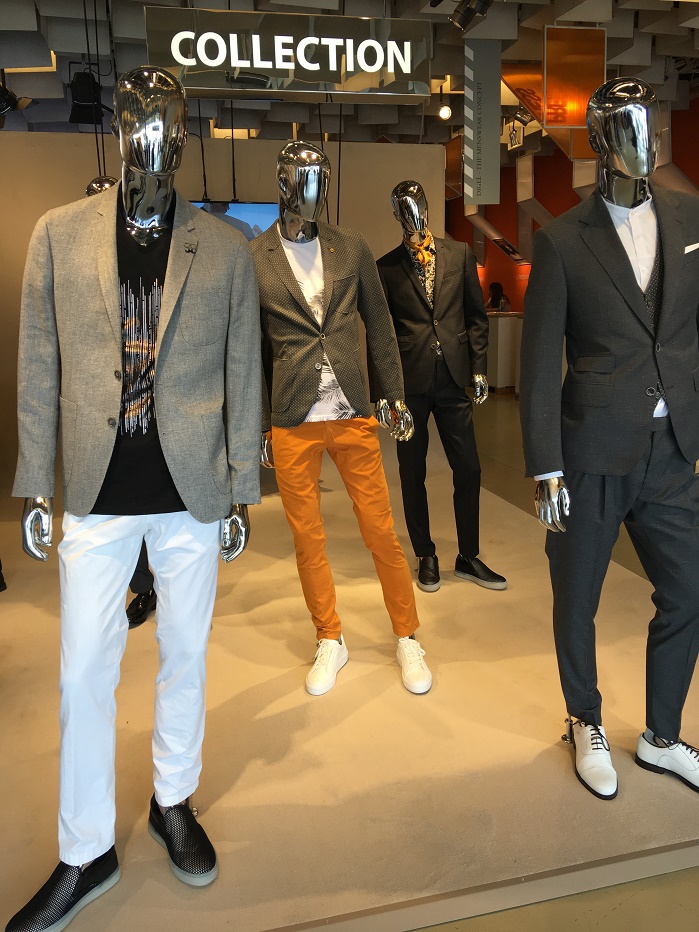 According to our knitwear expert Janet Prescott, who reported from Florence, the exhibition featured many side shows, including catwalk events with music and entertainment in the city, as well as the main bulk of the fashion collections in the various halls of the Fortezza da Basso.
Cotton and linen were the favoured natural fibres, and there was a fair use of acrylic in blends with wool, silk or viscose for particular features. Long loose jumpers gave a cool, casual look, in a larger gauge for more relaxed designs. Shorter, sleeveless knitted waistcoats and pullovers were used for layering with summer unlined jackets. Also, some Shetland wool and other thicker yarns were offered in summer knits. For more details, click here – Knitwear at Pitti Uomo 90.
Shima Seiki Italia to exhibit at 79th Pitti Filati
Another Pitti Imagine event, Pitti Filati, is taking off this week, presenting the latest knitting yarn collections and trends. Shima Seiki Italia, Italian subsidiary of a leading Japanese computerized knitting machine manufacturer, will participate in the Fashion At Work section of the event appealing to the technical and creative interests of visitors by providing hardware and software solutions for design, manufacturing and processing of knitted goods.
Examples of knitwear produced on its latest line of computerized knitting machines will be on display, including innovative seam-free WHOLEGARMENT knitwear, as well as new proposals in knit-weave hybrid textiles produced on the SRY series machine. Read more here – Shima Seiki to exhibit latest technology at 79th Pitti Filati.
Italian textile specialists present trends for Autumn/Winter 2017-18
Meanwhile, two Italian textile specialists have announced their latest collections for Autumn/Winter 2017-18 season. Zegna Baruffa Lane Borgosesia, a leader in the production of fine yarns for top-quality knitwear, has introduced its collection, encompassing three product lines – Baruffa, Botto Poala and Chiavazza – focusing on research, performance, modernity and sustainability.
According to the company, the versatility of the various yarns allowed Zegna Baruffa to create new options that are less classic and more creative. Some of the highlights include chunky but extremely lightweight yarns, as well as yarns that appear to bring the vintage look into the future due to the combination of appearance and technical characteristics such as softness. Read more here – Zegna Baruffa presents Autumn/Winter 2017-18 collection.
Italian knitted fabrics producer Eurojersey has also presented a preview of the trends characterizing its Autumn/Winter 2017-18 activewear collection of Sensitive Fabrics. The fabrics used in the collection aim to combine function and aesthetics, as well as quality and versatility to help bring out the potential of the garment, whatever the sport being practised. The collection features an eclectic use of materials for different uses, from dynamics sports to relaxation and leisure time. For more, click here – Eurojersey presents new activewear collection of Sensitive Fabrics for Autumn/Winter 2017-18.
Thanks for reading Knitting Industry. If you want to get your company or products news published, please email us at [email protected] or find out more about how to advertise with us.
Jana Bukolovska
Editorial Assistant
Billy Hunter is away
This article is also appears in...