The song Carolina in My Mind was written by singer songwriter James Taylor in 1968 when he was in London recording his debut album at Apple Records and feeling homesick. The nostalgic tune is sometimes known as the unofficial song of the state of North Carolina and of The University of North Carolina at Chapel Hill (Taylor's father lectured there), which is where this week's lead article on Knitting Industry comes from.
TV documentary producer Robert Newton, a native of Chapel Hill, and the offspring of an old established textiles family, spent six years making the nostalgic but inspiring 'Still Standing - The Real Story of the NC Textile Industry', a great documentary which charts the rise and fall and rebirth of NC's textiles industry, asking the question – "Has the largest industry NC ever knew disappeared, or is it still around?"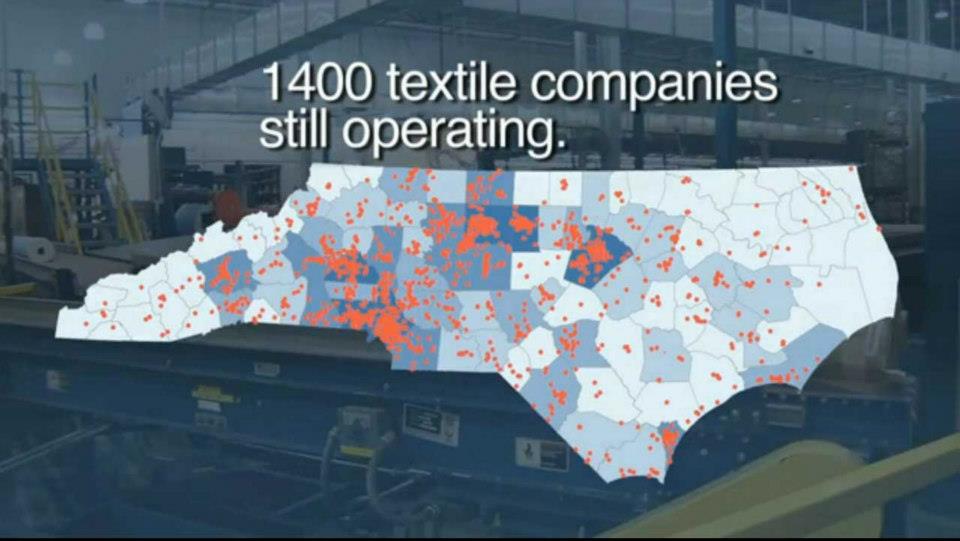 Our lead article Still Standing – The real story of North Carolina's textiles industry let's you watch the full 30 minute video in HD. Please give it some time as its well worth watching – there are some great interviews with industry leaders who have revived their companies' fortunes in recent years as well as some good case studies of successful new-starts.
Improved cotton price
In the meantime, more good news for NC came from the county seat at Winston-Salem last week, where branded apparel giant HanesBrands reported first-quarter 2013 net sales, operating profit and diluted earnings per share consistent with the high end of estimated preliminary results announced earlier in April. Improved cotton price lifts Hanesbrands gives you the full details.
And there's more good news for North Carolina. Canada's Gildan, a leading supplier of quality branded basic family apparel, including T-shirts, fleece, sport shirts, socks and underwear is projecting 2013 capital expenditures of approximately U.S. $200 million, including approximately U.S. $85 million for yarn-spinning investments. In January 2013, the company purchased a building in Salisbury, N.C. which will be used for its planned ring spun yarn manufacturing facility.
Soaring revenues for US sock maker
Meanwhile in north east USA, New England's Darn Tough Vermont, an American manufacturer of premium performance socks with an unconditional lifetime guarantee, has reported that Q1 2013 sales and profitability were the best ever for the first quarter in its, and parent Cabot Hosiery's, 35-year history. Read the full story here Soaring revenues for US sock maker and watch a great video interview with company owner Ric Cabot.
US sock manufacturer invests $17.5M, creates 168 jobs
Elsewhere in the US sock world, back in March we reported that an increase in demand for current and new product lines has motivated Renfro Corporation a Tennessee based sock manufacturer, to modernise its Cleveland plant and lease additional distribution space at an adjacent facility. US sock manufacturer invests $17.5M, creates 168 jobs reports how the company is making an investment of $17.5 million in equipment and construction and creating 168 jobs over five years to meet demand.
Technical textiles
Things do look good for the USA's traditional textiles industry but in high-tech technical textiles, things are also encouraging.
Santa Monica, CA headquartered Hologenix LLC announced in March that its Celliant brand, a developer of innovative responsive textile technology, had announced an alliance with global brand, Puma. The brand's men's athletic apparel line inspired by Olympic gold medalist and world record sprinter Usain Bolt now features performance-driven apparel incorporating Celliant's patented mineral fibre technology – Usain Bolt line uses responsive textile technology.
Earlier in April we reported from Dallas, Texas, that TissueGen Inc., a developer of cutting-edge biodegradable polymer technology for implantable drug delivery across a wide variety of therapeutic applications, has announced the availability of its Elute biodegradable drug-loaded fibre products, including pharmaceutical loaded fibres and growth factor loaded fibres. Read the full article Drug loaded fibres launched and other innovative technical textiles articles on our Innovation in Textiles website.
If you have an interesting story to tell about the North Carolina textiles industry revival or similar stories about other US textiles products or companies, please drop me an email at [email protected].
Billy Hunter