6th September 2012, Manchester
Used Knitting Machines trading platform updated
Knitting Industry, the leading free content website for the knitting and hosiery industries, has completed the revamp of its Used Knitting Machines trading platform, bringing a whole host of new features and benefits to both buyers and sellers of used knitting machines and related equipment.
The platform now has its own Used Knitting Machines homepage where buyers can search by category, manufacturer and seller.

The Search Used Knitting Machines by Category feature allows buyers to search by the following used knitting machinery categories;
Flat Knitting Machines; Circular Knitting Machines - Single Jersey; Circular Knitting Machines - Double Jersey; Circular Knitting Machines – Cylinders; Circular Knitting Machines – Conversions; Circular Knitting Machines – Garment Length; Hosiery & Socks Knitting Machines; Seamless Knitting Machines; Dyeing & Finishing Machines; Warp Knitting Machines; Miscellaneous; Spare Parts for Knitting Machines.
Searching a particular category takes the buyer to a list of available machines which can then be further refined by manufacturer, gauge/needles, width/diameter and feeds/systems. The geographical location of each machine is also indicated. Clicking on an individual machine reveals the complete machine details, the name of the seller and the option to acquire further details such as price via the Contact Seller button.
Search Used Knitting Machines by Manufacturer allows the buyer to find what they are looking for by clicking on icons for leading manufacturers or by selecting the name of the manufacturer from an A-Z dropdown list.

Search Used Knitting Machines by Seller on the other hand lets the buyer choose to view all machines available from their favourite machine dealer. Many hundreds of machines are already available from the site.

From the Used Knitting Machines homepage visitors can also view a list of Recently Listed Used Knitting Machines and link to the Used Knitting Machines - Information for Sellers page where information is available on selling used knitting machines via the site.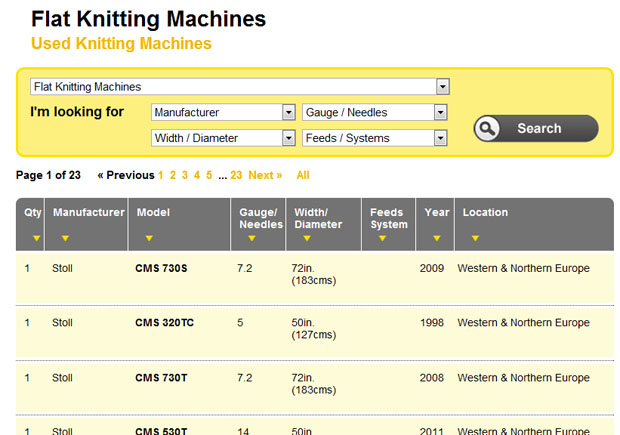 The Used Knitting Machines section on our site is a platform that allows sellers to upload and display any used machinery, spare parts or even the contents of whole factories.
New features
The Used Knitting Machines platform has many additional features and benefits which will appeal to many sellers, from the one man machine dealer business to the machine builder with a full service used machinery business, including:
Access Knitting Industry's Global Readership
Easy to search listings - Highly searchable and logical classification of categories
Search Engine Optimised Listings - all listings are now search engine friendly
Unlimited Listings - list as many items as you like at no extra charge
Automatic Reminder - after 90 days receive a reminder to delete or renew your listing
One Click Renewal - renew your listings with just one click
Multi-lingual Interface - all listings translated into multiple languages
Lead Generator - email enquiries direct to your inbox
Priority Listings - increase the visibility of your listings when you choose a Premium Package
Unlimited Images - upload any number of images to your listing
Video Upload - include a video or YouTube clip in your listing
In-category advertising - additional advertising opportunities within Used Machinery section
Wanted Ads Access - find people looking for your machinery with access to our wanted ads
Listing Upload Service - an optional service where we can upload lists for you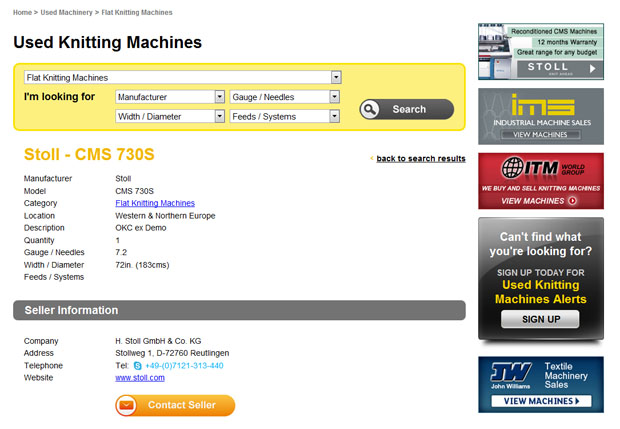 Knitting Industry's Used Knitting Machine platform has been designed by site Editor Billy Hunter who has many years of experience in sales of new and used knitting machines. We hope you find it of great benefit to your business.
This article is also appears in...